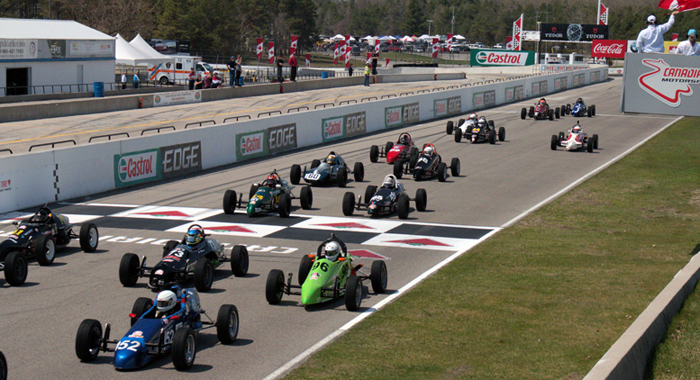 Formula Vee (US) or Formula 1200 (Canada), is a racing class based on the pre-1963 Volkswagen Beetle. The engine, transmission, suspension and brakes are stock or modified parts; the chassis is a tube frame design with a fiberglass body. It has changed little from the start, yet has seen some of the world's finest racers in its ranks.
Our Canadian/American based series is passionate about providing a competitive and low cost venue for hardworking, up-and-coming drivers. The ten race season features Formula Vee and Formula 1200 open-wheeled race cars competing at premier road courses within the United States and Canada.
With the increased exposure and interest in both Canada and the U.S., this series can only get bigger, making this the perfect time for a passionate brand to partner with the Challenge Cup.
The Championship
For the overall season championship awards, Dean Curtis took home the top trophy for the Master's Division, while Sherman Engler received the second- place hardware for his season-long efforts and Sam Ryan earned the third-place trophy. In the Regular Division high points earner Barrett Kingsborough was crowned champion, while Matt Clark got the second-place trophy and Trevor Carmody received the final award by tallying enough points for third in the championship. Kingsborough, putting an exclamation point on his championship also received three Hard Charger trophies for his performances in three previous 2018 events and the Overall Championship trophy for tallying more points than any other competitor.
The 2018 Challenge Cup Series proved to be a success, both from participation numbers and in the organization's efforts to extend its traditional track choices to offer more Vee drivers the chance to experience the many benefits and the on-track competitiveness that are the hallmarks of the Challenge Cup Series. After the ceremonies were concluded, and the racers filtered out of the Media Tower into the warm September evening, it wasn't s a stretch to imagine that many were already planning for the 2019 Challenge Cup Series season.
Series Guidelines & Technical Specs
Useful Links